An adventurous and memorable trip to Sehr Bagla, Murree
It was Mid-December 2012 when one of my friends invited me for a trip to Murree and Kashmir. He knew that I love adventure and traveling especially the nature, the mountains, the trees and the snow. I got excited but had a few commitments. The commitments were managed and I made up my mind to join them as I had taken vacations from office. Perfect timing and perfect luck; got permission from home to go. All the stuff was managed Alhamdulillah.
Trip Statistics
Departure from Karachi: 22nd Dec 2012 (By Train)
Arrival to Karachi: 31st Dec 2012 (By Train)
6 person
Approx expense: 5K per head
Trip Route
Karachi -> Faisalabad -> Rawalpindi -> Murree -> Sehr Bagla
Sehr Bagla -> Murree -> Rawalpindi -> Karachi
The Plan
We knew that we had to leave via Train on 22[SUP]nd[/SUP] in evening. I was dropped at the station and was quite surprised to see the train. We were 6 including me. The train departed half hour late and was running like quite slow. We had to reach Faisalabad on the morning of 23[SUP]rd[/SUP] Dec and as usual the train was a little bit late. The journey in the train was an adventure. J Especially going toilet at the night in the dark in steel toilets was a difficult task to achieve with the train moving sideways. You can guess the rest.
We took a bus from Faisalabad and left for Rawalpindi to stay night at friends place. The bus stopped at Kallar Kahar for a while where we took few awesome shots. We could now see the large green mountains on our way to Islamabad/RawalPindi. The Bus dropped us at Faizabad and we took a cab and headed towards our friends house. We reached there after a tiring and yet adventurous journey of 28 hours. We took bath, had an amazing dinner and left for shopping. We returned back around and it was still 10pm not even mid-night. We had to leave early in morning for Murree, so we slept early.
Day 1 (24-Dec-2012) ? Rawalpindi to Murree to Sher Bagla
The next morning we had an awesome breakfast and then we packed the bags and left for Murree. We took a Hi-Roof, Suzuki Bolan (at Rs. 1800/-) with us. Murree was not the ultimate destination. There is a village named Sehr Bagla in Murree where we had to reach. My friend has a house there on the mountains. The journey to Sehr Bagla was quite amazing as we encountered great views of mountains, snow and trees. We bought few desi eggs for us and water bottles on our way to the destination. We saw monkeys on our way and stopped to take some photos with them.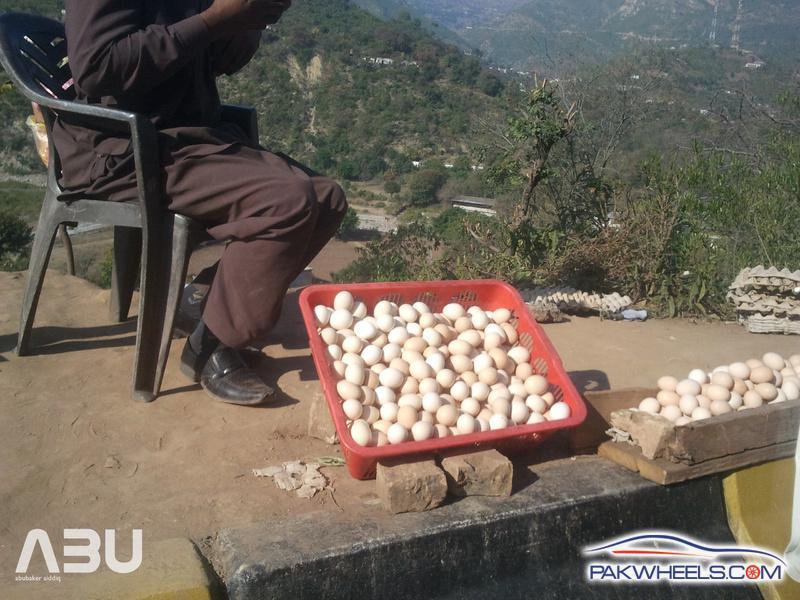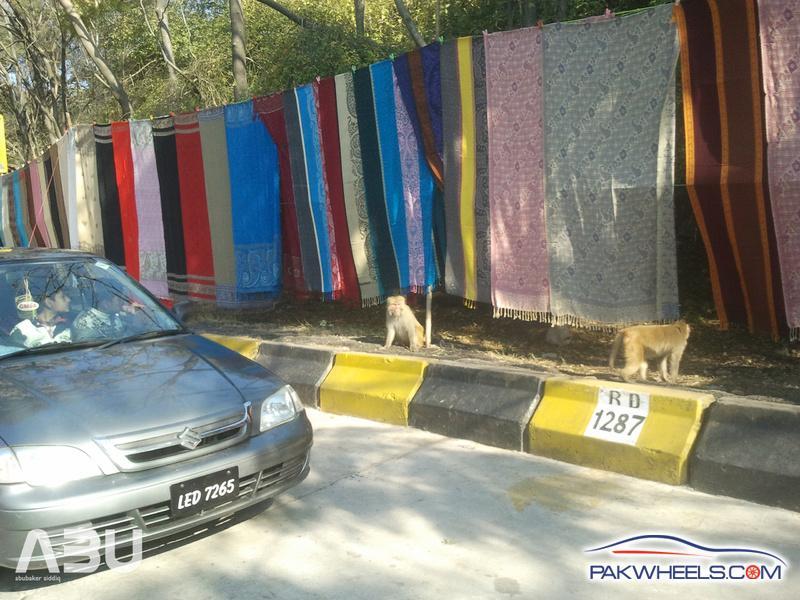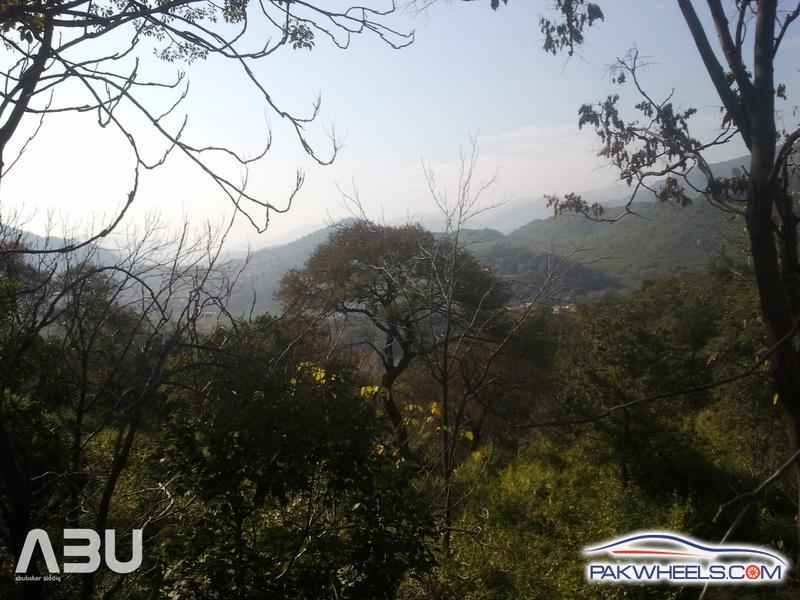 We didn?t stopped anywhere after that and headed towards Sehr Bagla. Reached Kashmiri Bazar and then the journey to climbing a mountain started. It was a mountain with too much inclined roads. Some patches were not good and few were very narrow, only one car can go at a time with nothing on both the sides of the road. On our way so amazing views, took photos and made videos. Every now and then, we could smell burning rubber from the Suzuki Bolan. J The Bolan was in a very good condition with very good tires. Finally we reached destination around 3pm and was amazed to see the beautiful house and surroundings where we had to stay. We unloaded our bags from the car and got inside the house and started to ready for our next target.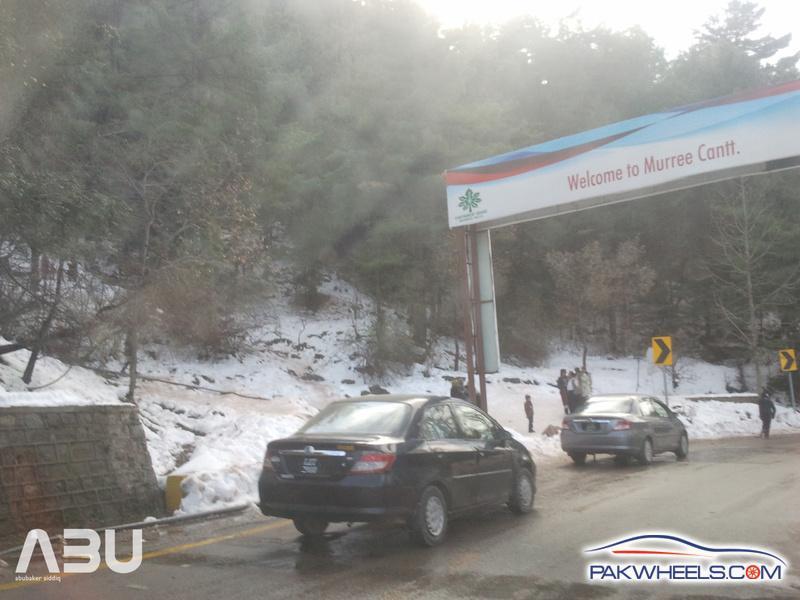 Welcome to Murree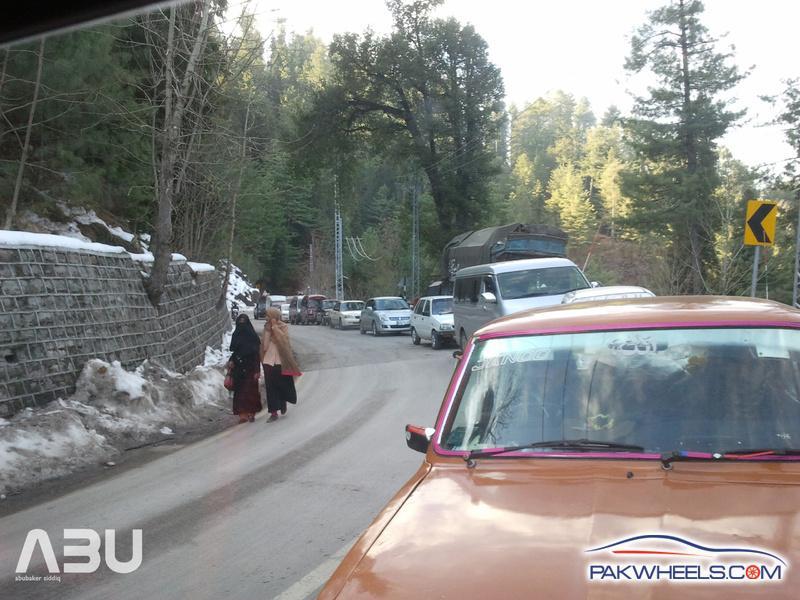 Long Queue at the wooden bridge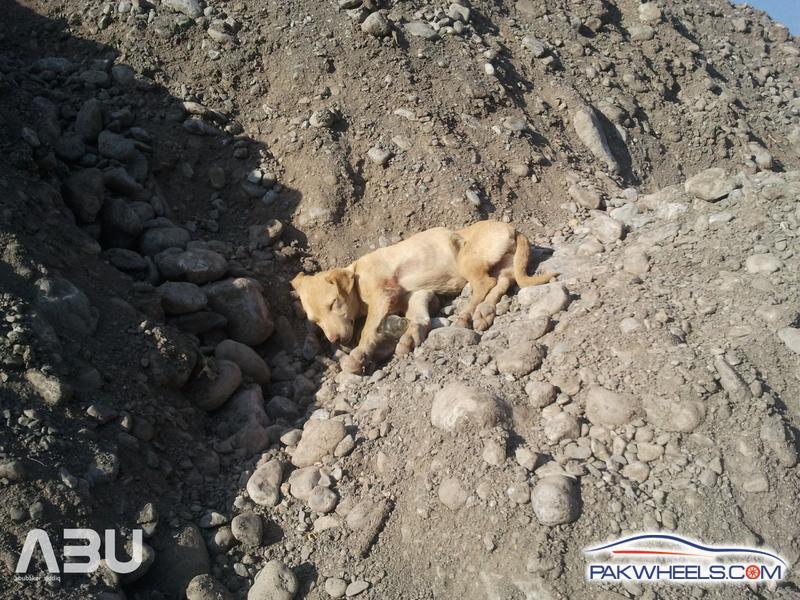 Check out the dog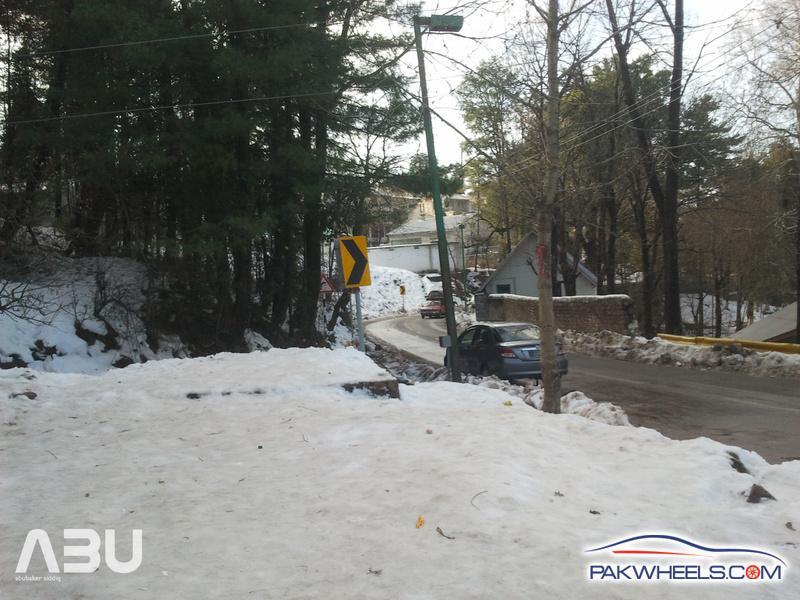 Thanda Jungle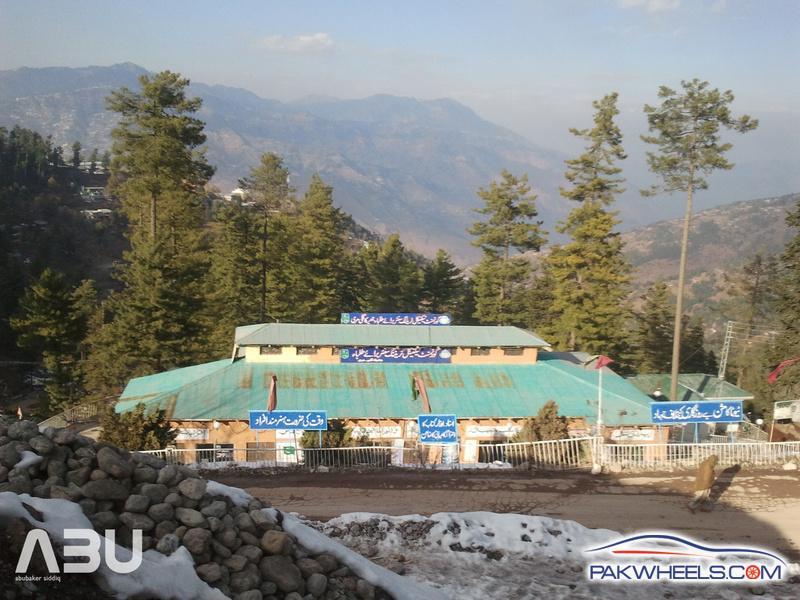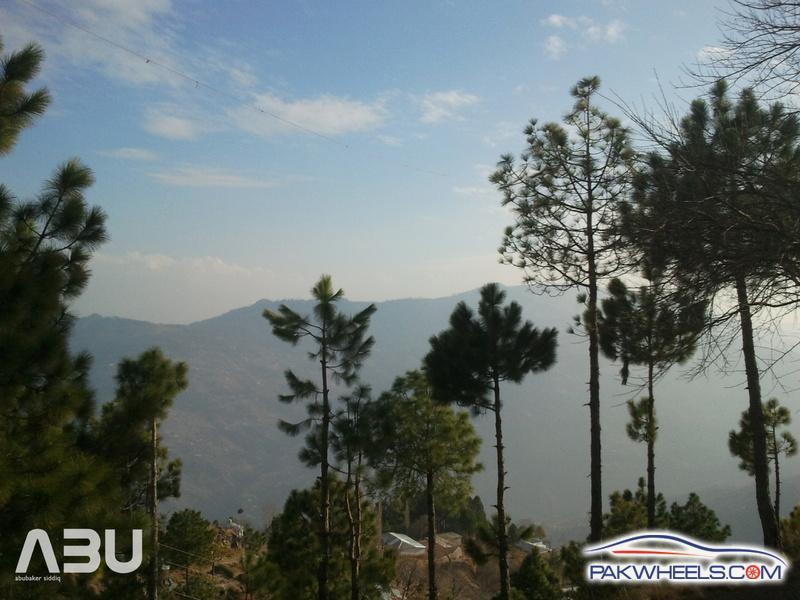 From the garden of my friend house at Sehr bagla, Murree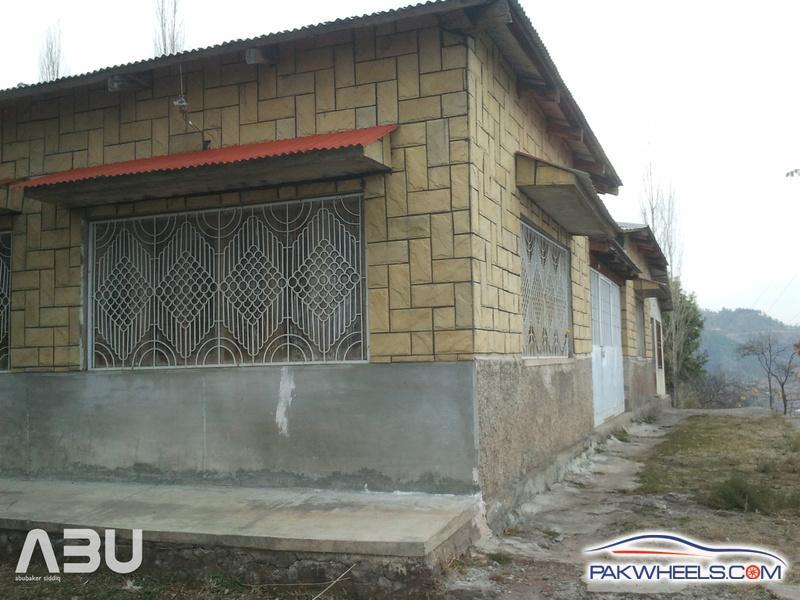 My Friends house at Sehr Bagla, Murree
The 3 brother trees
Just after Asar we left for Maal road. We reached a bazar a few KMs down the mountain and found a Suzuki that can drop us at Maal Road. Well we had an adventure even in this small journey. That will be quite detailed. The Suzuki dropped us far from the desitnation. We talked to Mall Road and then headed towards Pindi point and came back after a nice walk and had dinner. Finally we did some shopping and my friend kept saying us to hurry as we might not get a ride back to Sehr Bagla after 8pm. We never listened and never realized the consequences.
Beautiful Sunset on our way to Maal Road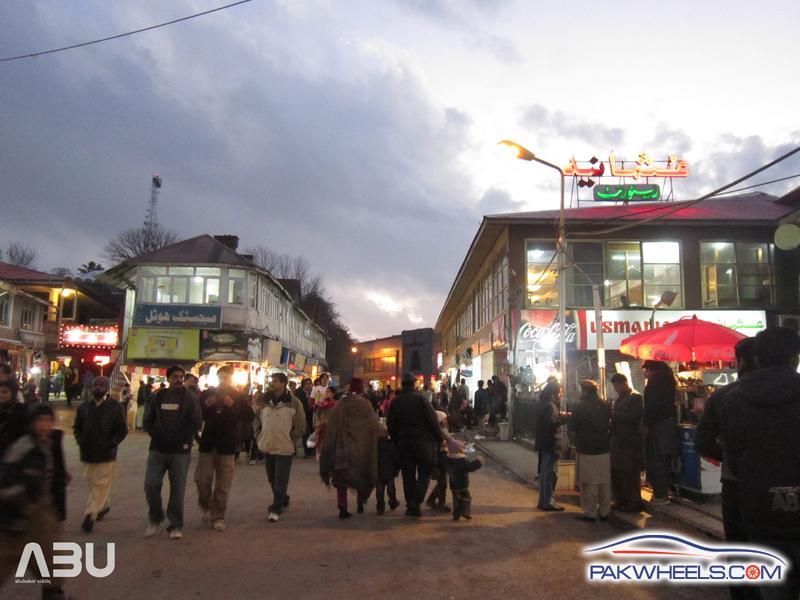 We were late and couldn?t get a ride for an hour. But the ride that we found dropped us in the middle of the way because the road wasn?t suitable for vehicle. We stepped out of Car and I was like freezing. It was windy and very cold. Finally we reached home. That was like a home. I stayed back in the lawn as the night sky was putting up a good show. It was quite freezing but beautiful Orion kept me away from going inside house. I knew my digital camera can capture at least the most prominent stars of the Orion. To my surprise, it captured amazing views of the Night even when there was Moon light. I spent a few minutes there but then my friend asked me come inside at it was not safe alone outside at that time of the night. We went inside and after an hour or so we slept. And this ends day one.
Night View of Sehr Bagla, Murree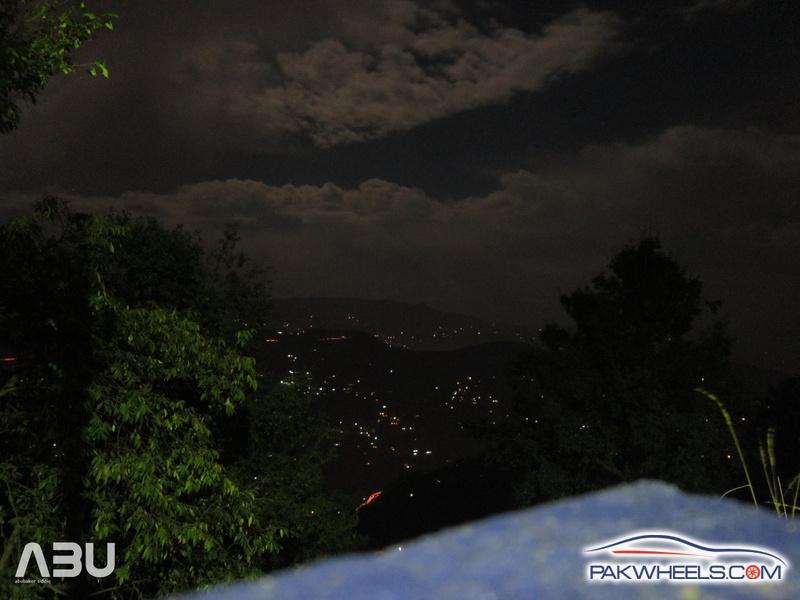 Night View of Murree from Pindi Point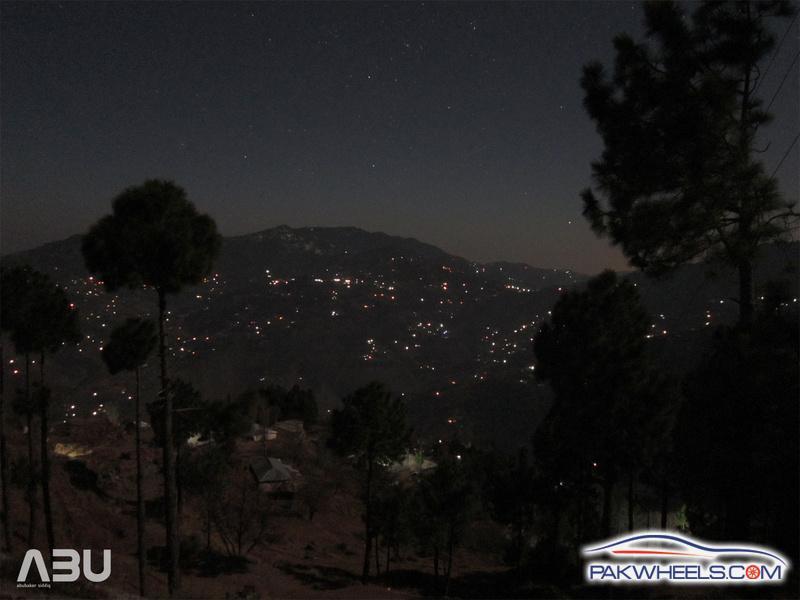 From my friend's house, we can see this view at night time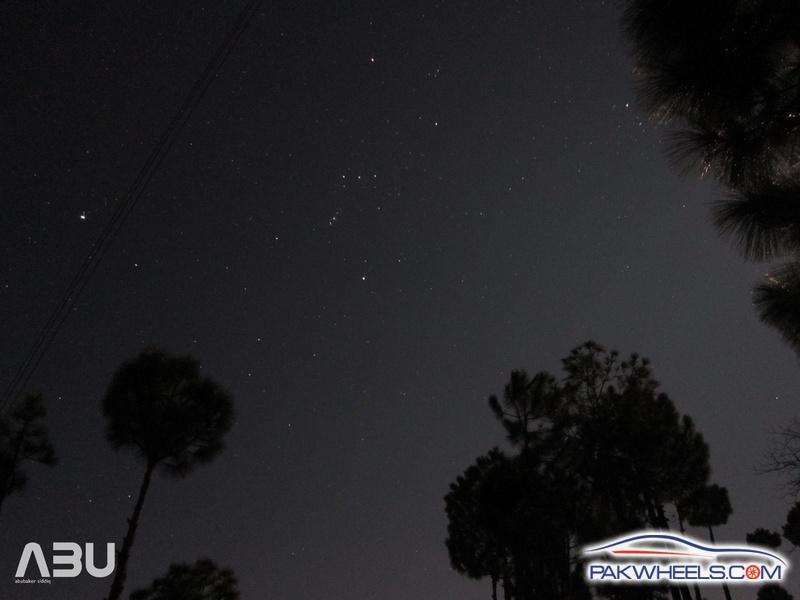 The Beautiful constellation of Orion, Pine trees and electric wires in the view
Day 2 (25-Dec-2012) ? Sehr Bagla to Khohala to Sehr Bagla
The next morning at 6am, one of our friends took off blankets from us saying ?chalo jaldi utho jana hai?. My local friend said ?kya huwa aunty subah subah aap ko, khair tou hai. Relax. So jao?. Well we all were awake but then the guy who woke us up slept himself and we all went asleep again. We woke up back around 9am and got ready for the day ahead. I took few beautiful shots as I was ready before everyone. I was excited to take some great shots so got ready fully ready within 15minutes. We went down the mountain back to the Bazar for breakfast. After the breakfast, we waited for our ride to reach and in the mean time we offered Zuhar prayers. We took the ride for Rs. 1300/- . The ride came and we were all ready to leave for Kohala. From Wikipedia: ?Kohala is the site of the well-known Kohala Bridge across the Jhelum. Kohala is a gateway to the Muzaffarabad and Bagh districts of Azad Kashmir. It lies where the Punjab, Kashmir and Khyber Pakhtunkhwa boundaries meet?.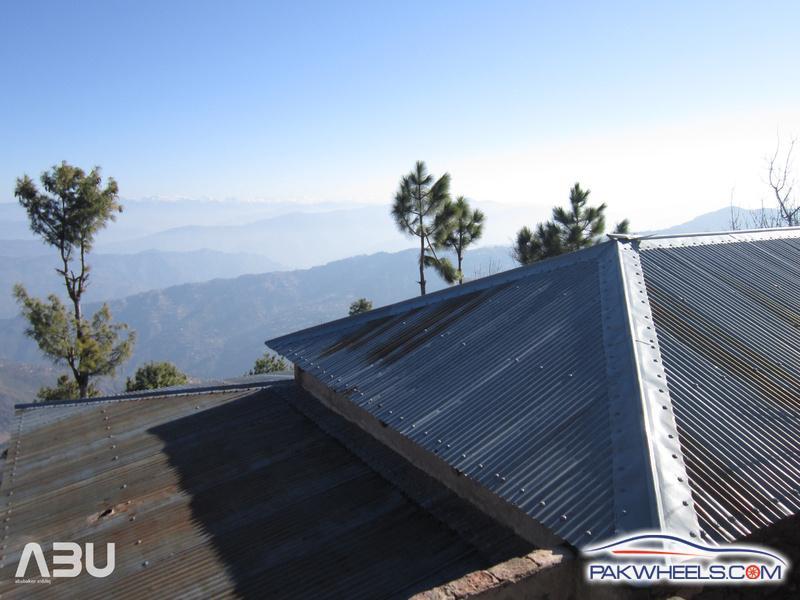 A house besides our residence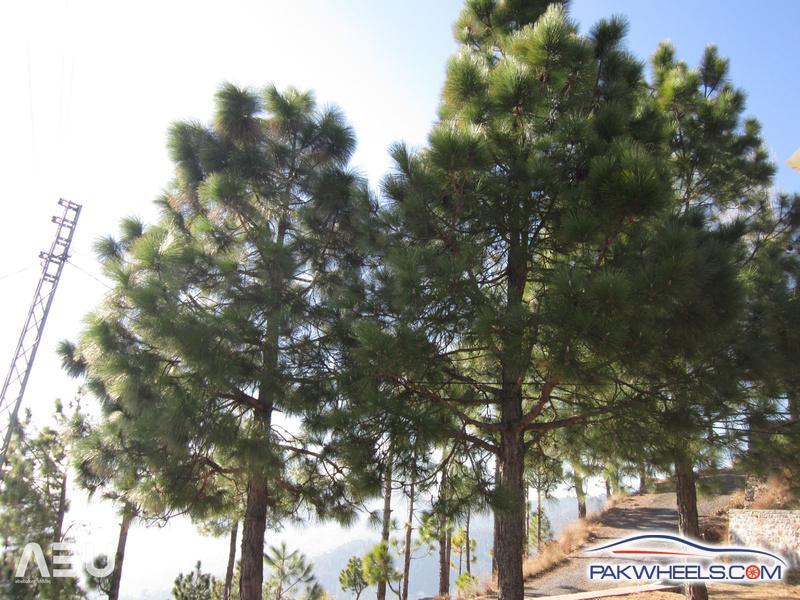 The 3 pine trees in our lawn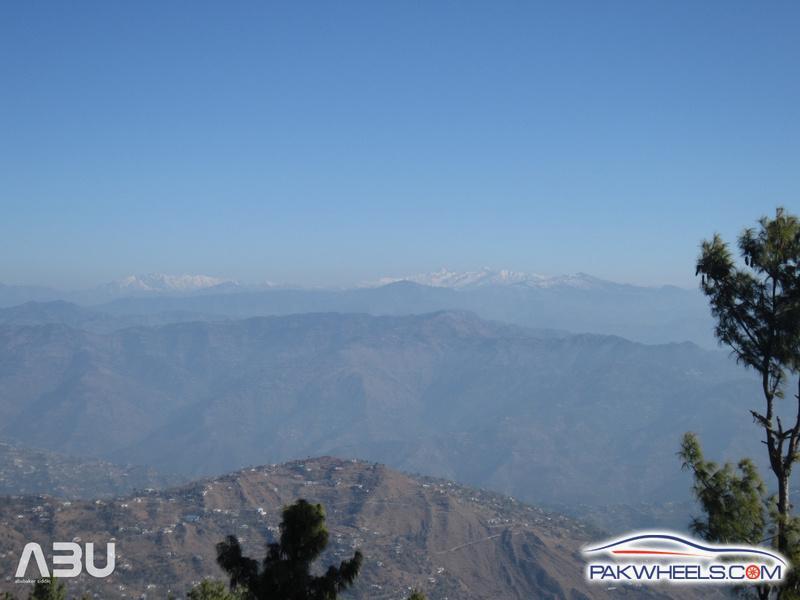 Mountains and mountains with peaks covered in Snow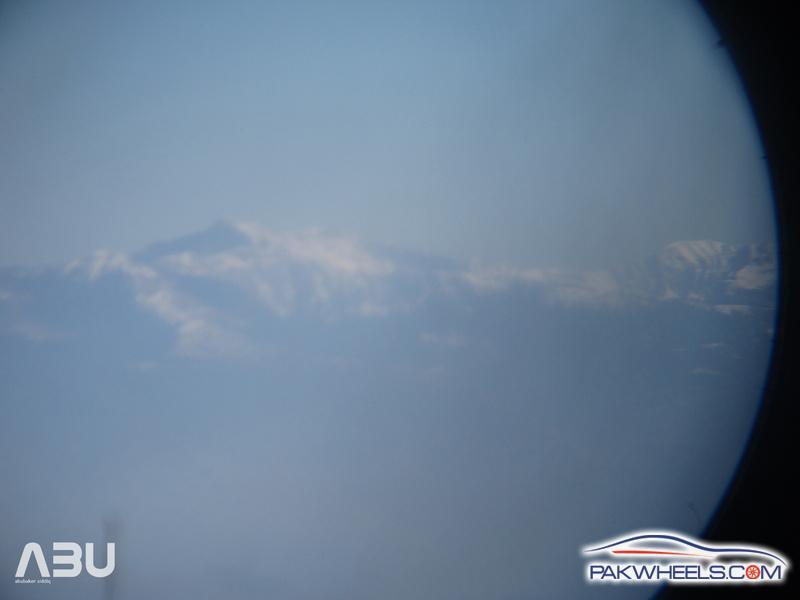 Snow covered mountains close up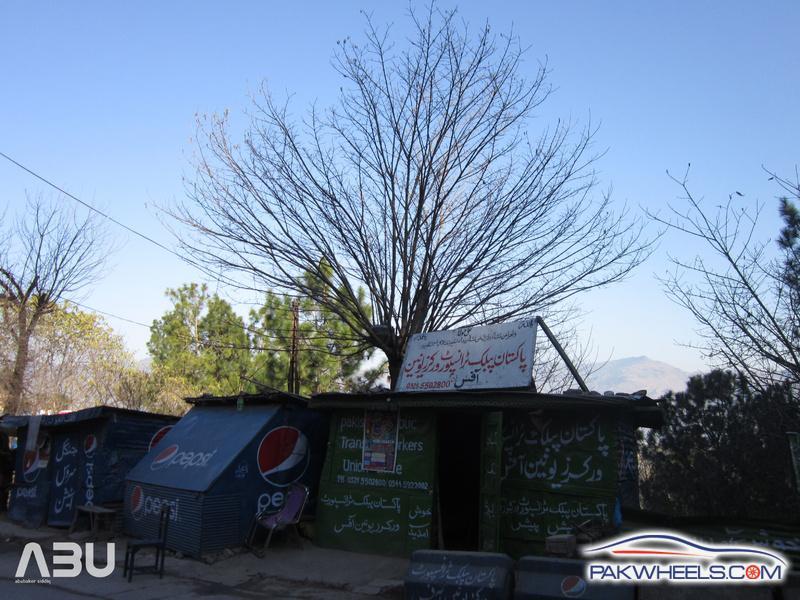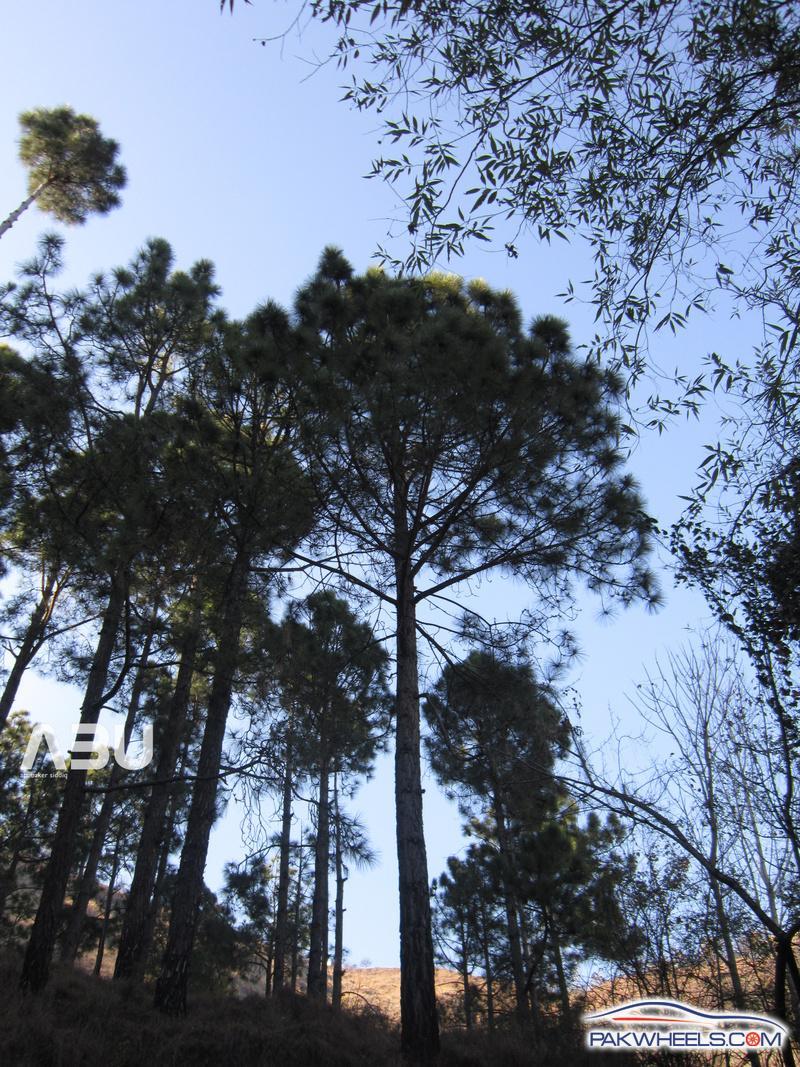 Beautiful Pine Trees
We reached there and were excited to see the beautiful place where rivers comings from two sides meet together. The water was extremely cold. We had some water, spent more than an hour there, had lunch after Asar prayers. We kept our feet in the flowing cold stream of water for half an hour or so. It was an amazing experience. We took too many photos there and enjoyed our time under the bridge and in water.
Khohala/Neelum Point and the way to Muzzafarabad
We reached back at bazar, had a cup of tea and were ready to go back to our destination. Yes climbing the same mountain was our next target. The sky was hazy and the moon was shining brightly lighting up the while sky. I could feel the cool breeze and could see the moon with double corona. The corona means an outline created around moon due to hazy sky. There were 2 outlinesJ, so I named it double corona. On our way, we stopped and took rest for a few minutes as it wasn?t easy walking on the mountain. I found the opportunity, took my Canon powershot out of my pocket and took a shot of the hazy sky and the mountains. Finally after a walk of around 25minutes, we reached our destination, took some rest and came out in lawn in the chilling freezing temperature. We sat there for half an hour or so, I took a few night shots of the sky and ourselves. While I was taking long exposure photo of the ourselves in the dark, one of my friend said that flash tou ON karo raat mei picture kahan se aaegi.. J He didn?t knew about the night photography. I stayed quiet and then after a few seconds showed the night shot to everyone and everyone was surprised and shocked to see the amazing photo. J The ended with memorable conversation in the room and the other day we woke up late.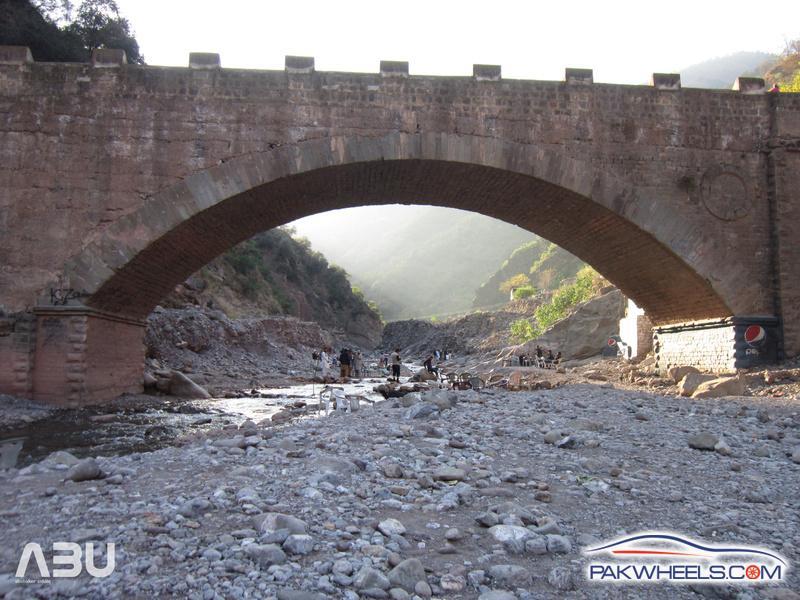 Kohala Bridge: The Kohala Bridge across the Jhelum River, a tributary of the Indus River, forms part of one of the land routes from the Azad Kashmir to the rest of Pakistan (wikipedia)
Check out the beautiful view under the bridge especially the Sun rays. It was Asar time. We offered prayers and then had Sheesha while resting our feet in the freezing cold water.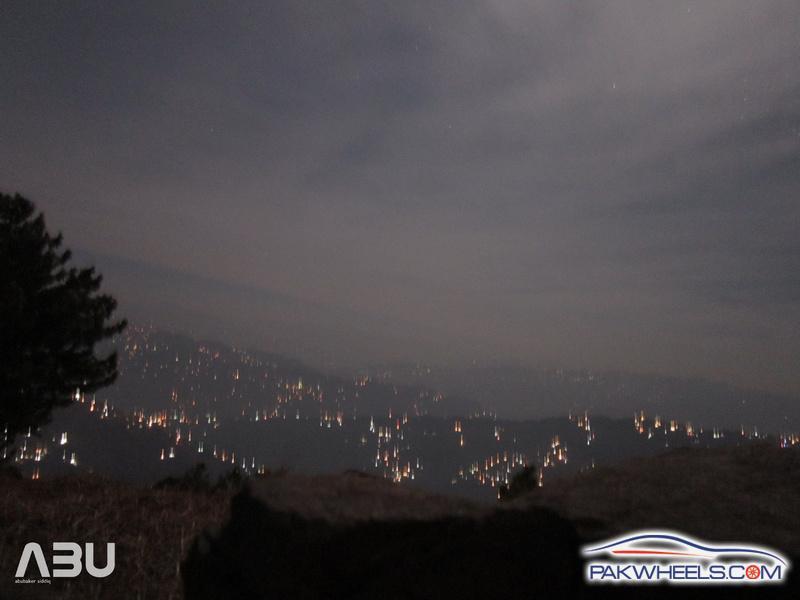 From the mountains of Sehr bagla, Murree
While going back home, the weather was hazy and the temperature was getting lower. We stopped while climbing the mountain and I got 3 mins chance to capture this amazing view. This is taken from a Canon digital camera without a tripood. I just kept it on the inclined mountain surface.
Time was 05:54pm. It was already too dark.
After we reached home, we planned to have some eggs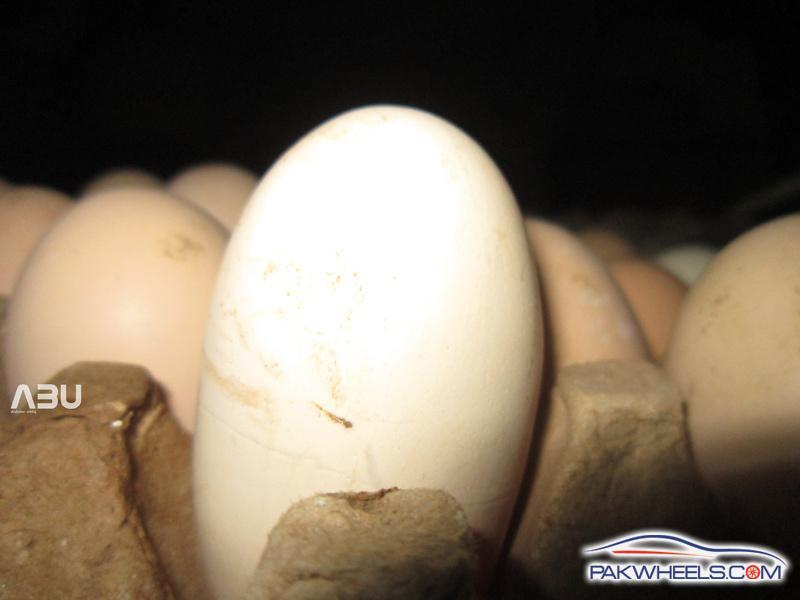 The daddy egg. Double Egg.
And the day ended with a night photo
After we reached home and had some eggs, we planned to sit in the lawn and have some gup shup. It was quite chilling I remember. I told my friends to see the magic what I am going to do. Everyone was un-aware of night photography. They were saying to turn on the flash.
I explained them that we don't need flash.
Me and my friends in the lawn at less than 0 deg Celsius, with constellation of Cassiopeia, pine tree and our home in the background.
Day 3 (26-Dec-2012) – Sehr Bagla to Patirata to Bhurban to Sehr Bagla
Since we were late, we took the same ride (at Rs. 2000/-) as soon as we could and left for Patriata. Initially we planned to go Ayubia and Nathia Gali but due to shortage of time we changed the plan. We reached Patriata, bought tickets for Chair lift/Cable Car and were surprised to see the longest queue I have ever seen. I was excited and a bit nervous at the same time. When our turn came, we were in the Chair and it was quite smooth and amazing experience. We took some of the most beautiful photos of the trip. The view was simply awesome. I couldn?t resist taking photos all the way. The reached and joined the queue of Cable Car. It was another amazing experience. We saw some of the most amazing views of the valleys below us. The car dropped us at the Patriata top and there we moved to New Murree.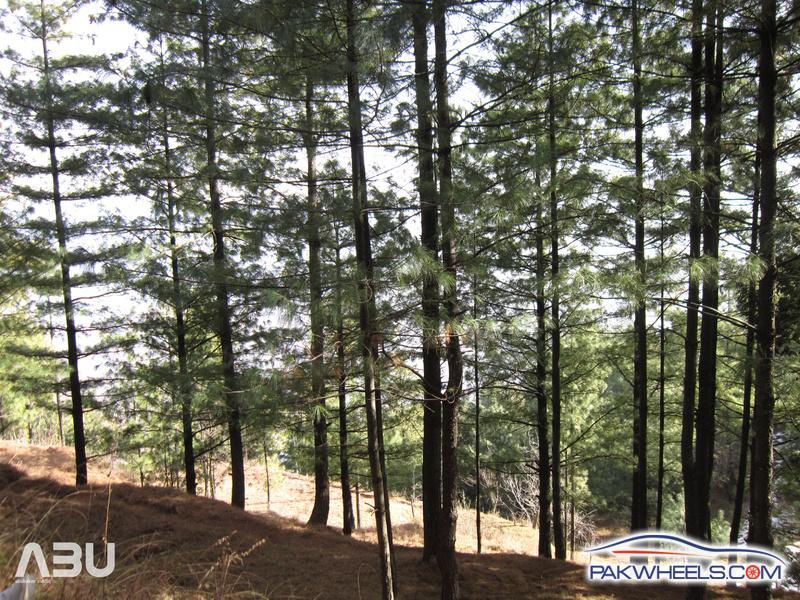 Before leaving for Patriata, we went to the Jungle near our residence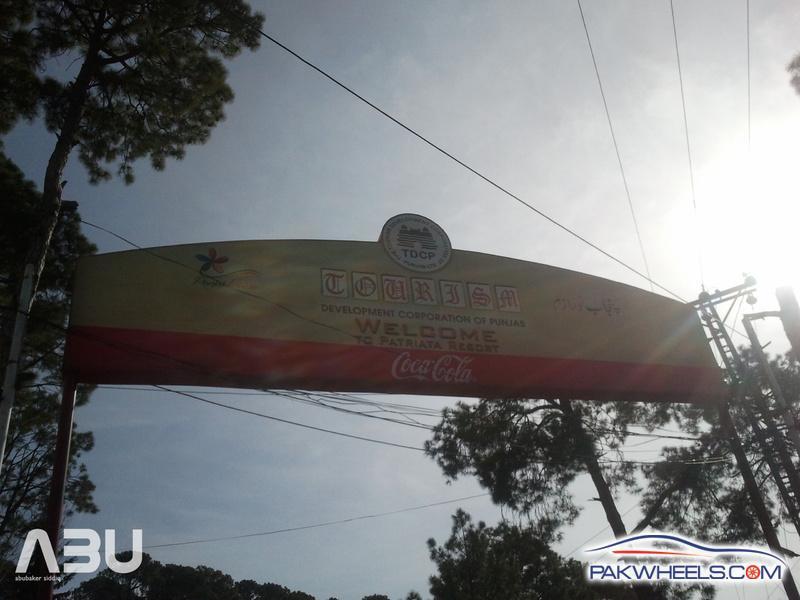 Patriata Resort entrance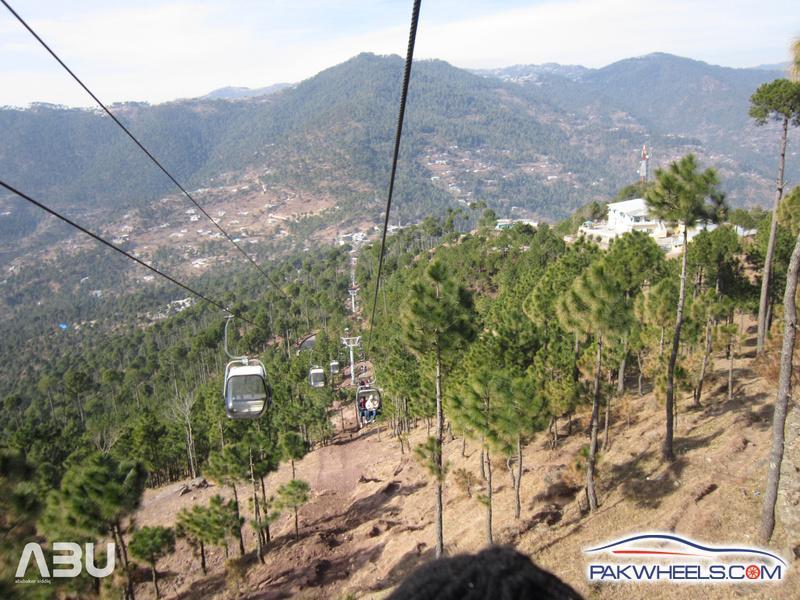 From the chair lift, I turned backwards and captured this photo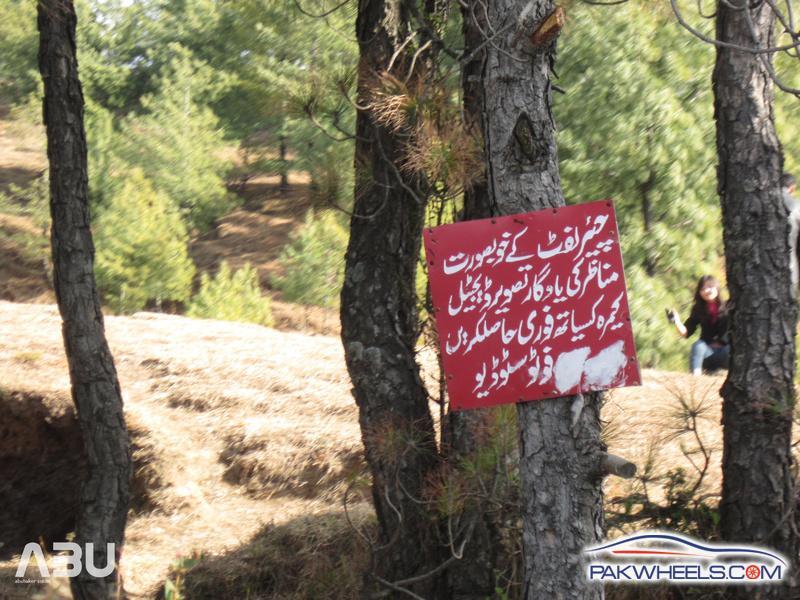 Digital Photo fori hasil karain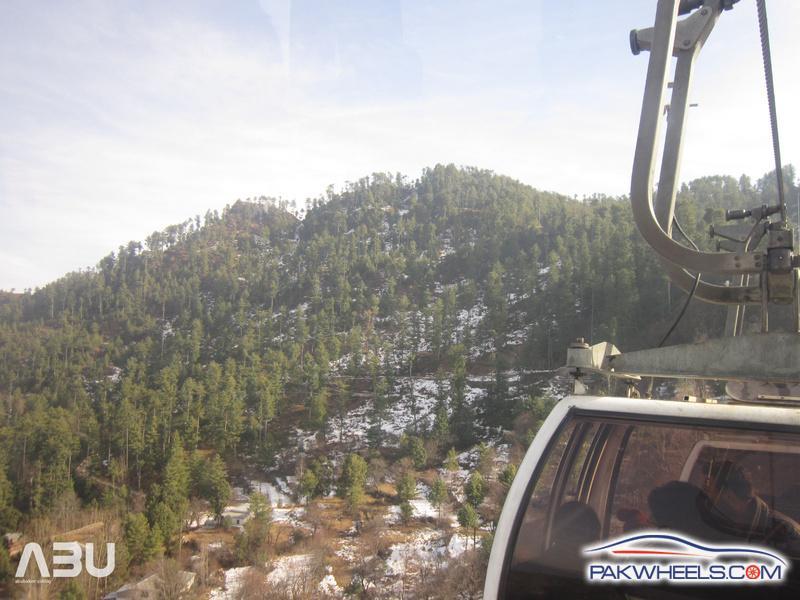 From the Cable Car, Patriata
As soon as we reached we had another adventure. We were welcomed by the gunman who asked us to shoot the balloons. One balloon was for Rs. 10. My friend who was local of Murree picked up the gun and started playing. As I saw him, the other gunman came to me and handed over the gun to me to shoot the balloons. I was amazed and started shooting the balloons and all shots were going well. After I shot 10 balloons, he stopped and said that if I shoot all the balloons on the board without any miss fire, I will get a prize of Rs 1000/- and if failed I will have to pay Rs. 450/- I kept playing and after 1 more shot, I missed a shot. The guy said ?o jee aap ne ye kya kya ??. I answered: ?your bullet has some problem?. So said in return that ?aap ne doosri wali aankh band karli thi?. I got the point that he is trying to make fool. Well he said to keep playing. Again after 1 shot, same thing happened, and he asked for the money. I had to give him the money. This is how those gunmen did with 3 of us.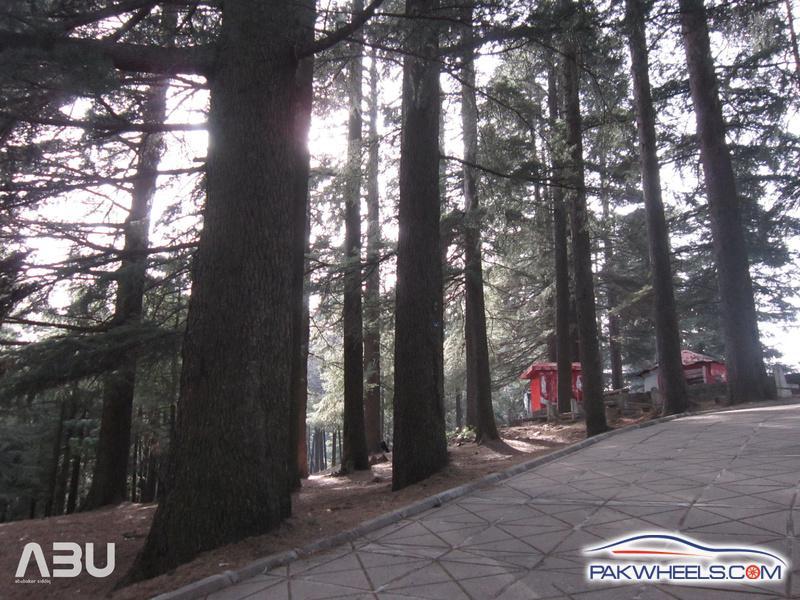 Beautiful and old huge trees at New Murree Patriata Top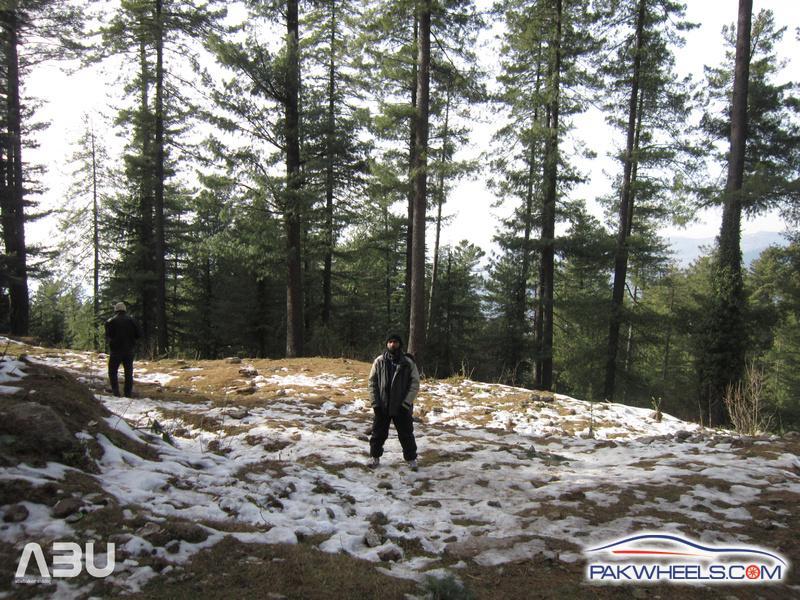 An amazing spot at patriata top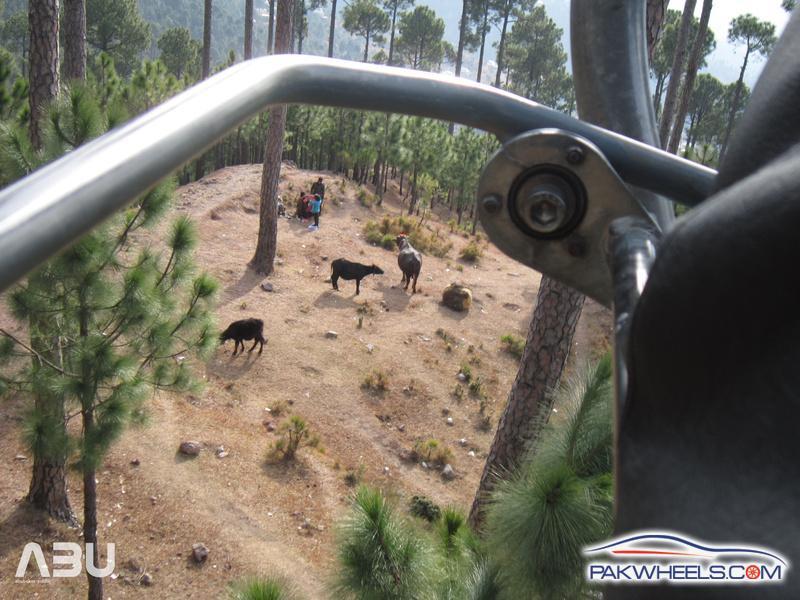 While going back to Chair lift station
Rest houses and chair lift station, Patriata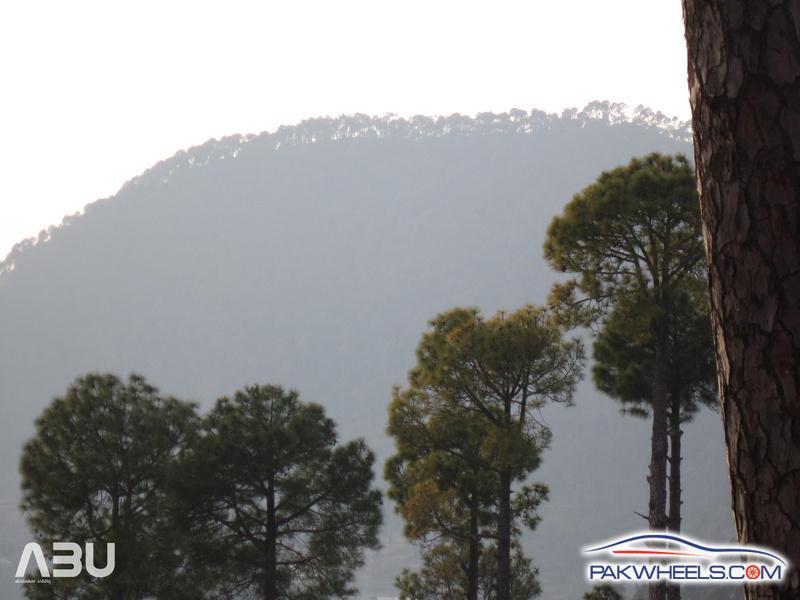 Check out the Pine Trees on the background mountain
Day 4 (27-Dec-2012) – Sehr Bagla to Ayubia to Nathia gali to Rawalpindi

The next morning I woke up many times and then slept as I saw all of my friends sleeping. Around 10am in morning, my friend (local) woke us up suddenly saying ?Oye baraf baari honay wali hai, Mousam check karo? I was near the window, so saw that it was very cloudy but not that cloudy and it wasn?t falling. We got up, got ready, packed our bags, locked the house and went down the hill to the bazar. We had breakfast there and waited for our Jeep (at Rs. 5000/-) to arrive as we were going to Ayubia and Nathia Gali. I was excited and upset at the same time as I knew that it was our last day in the snow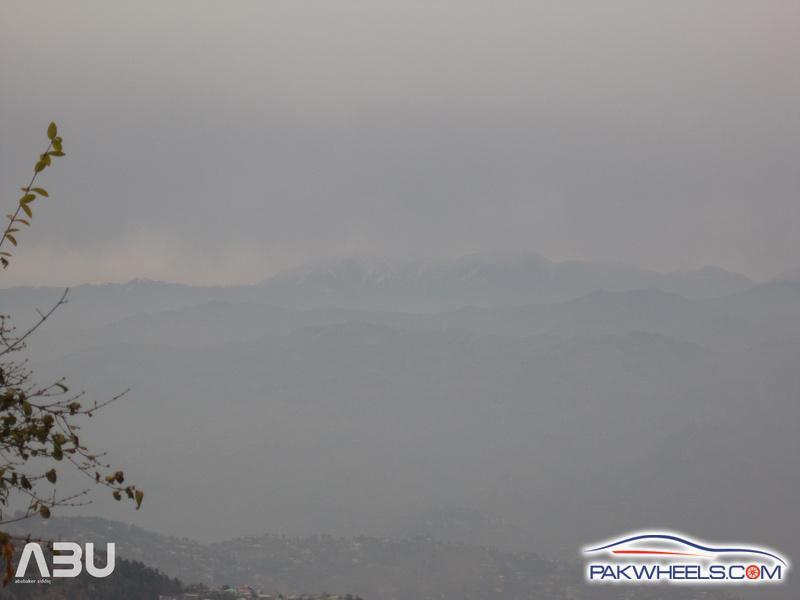 Cloudy day (The same day it started snow fall)
Captured from from our residence at Sehr Bagla at morning around 9:30AM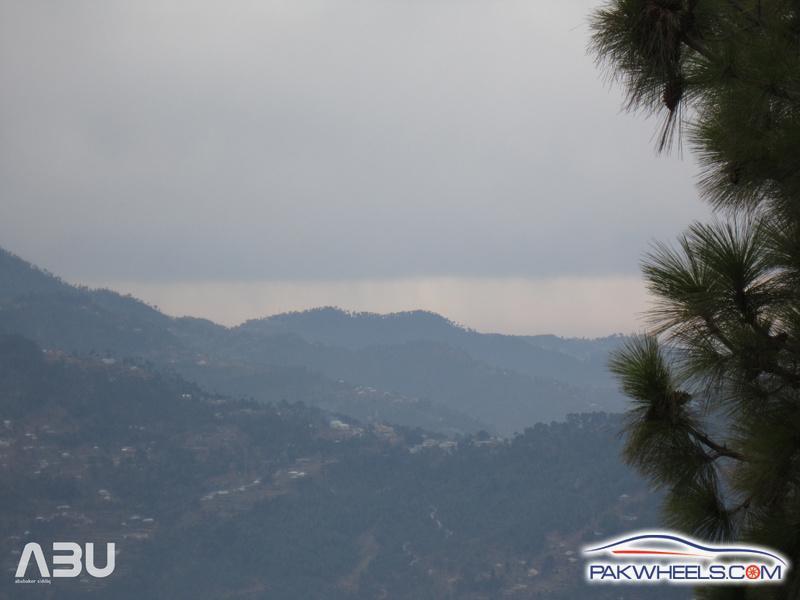 Check out the beautiful clouds (morning around 9:30AM)
The roads were quite were in good conditions to the way to Ayubia and Nathia gali. On our way, we saw too many snow man and other structures made with snow. We stopped for a while at ?Bandar point?, took some shots of the monkeys. First time in my life, I saw too many monkeys at one place and all were free and on their own.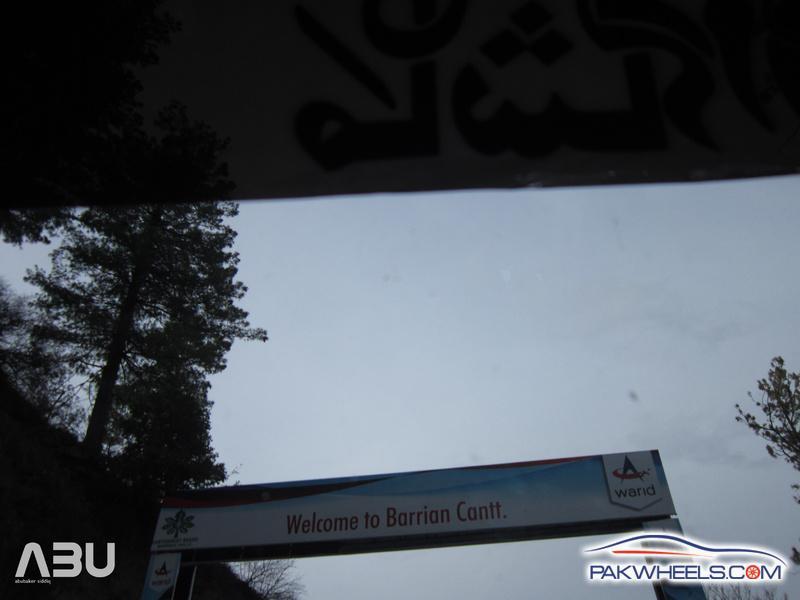 Left Murree for Ayubia and Nathia Gali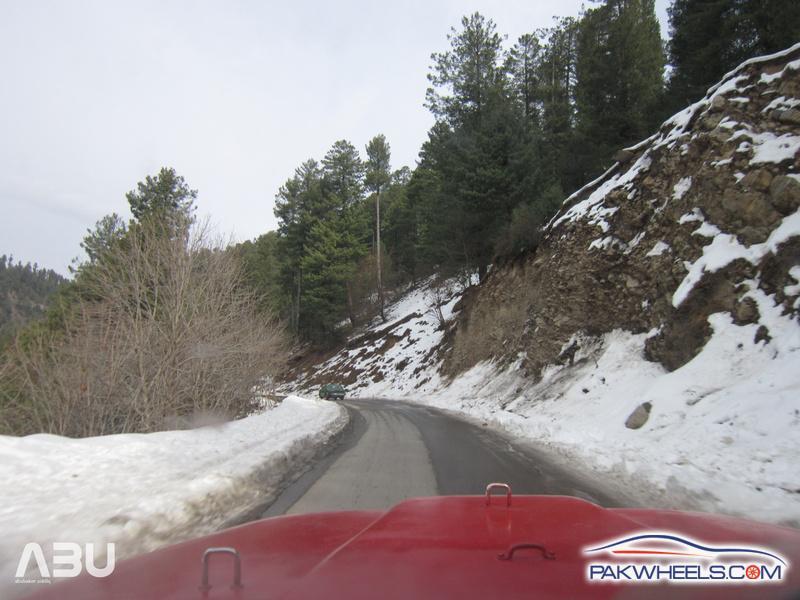 On the way to Ayubia. Beautiful weather and thick snow on the way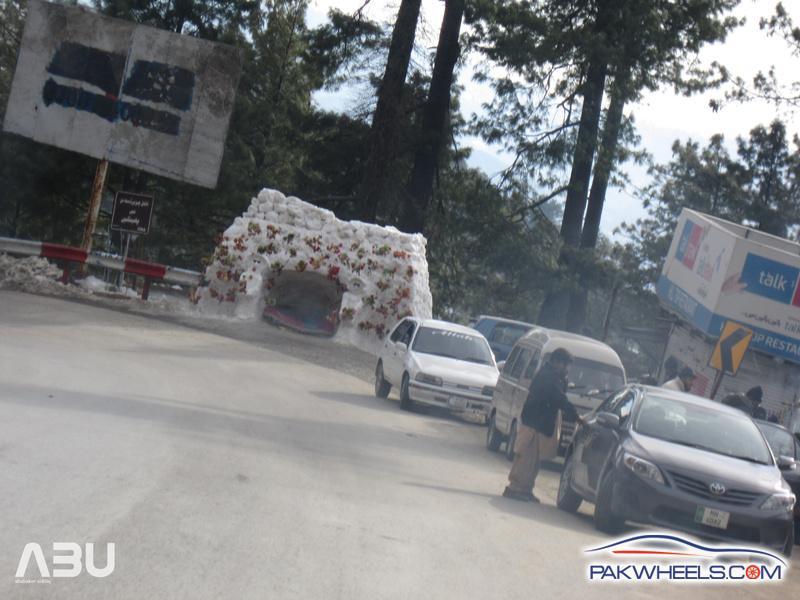 Snow architecture on our way to Ayubia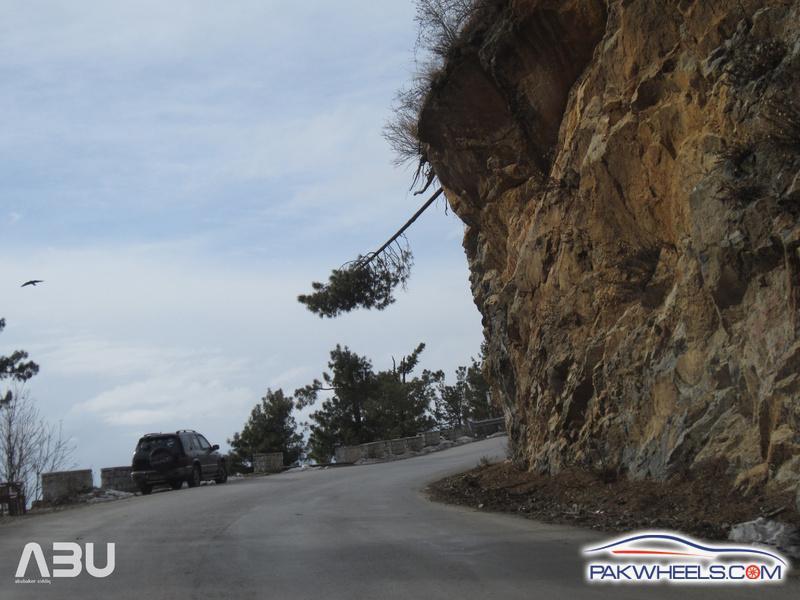 Pine Trees can grow in this direction as well.
Amazing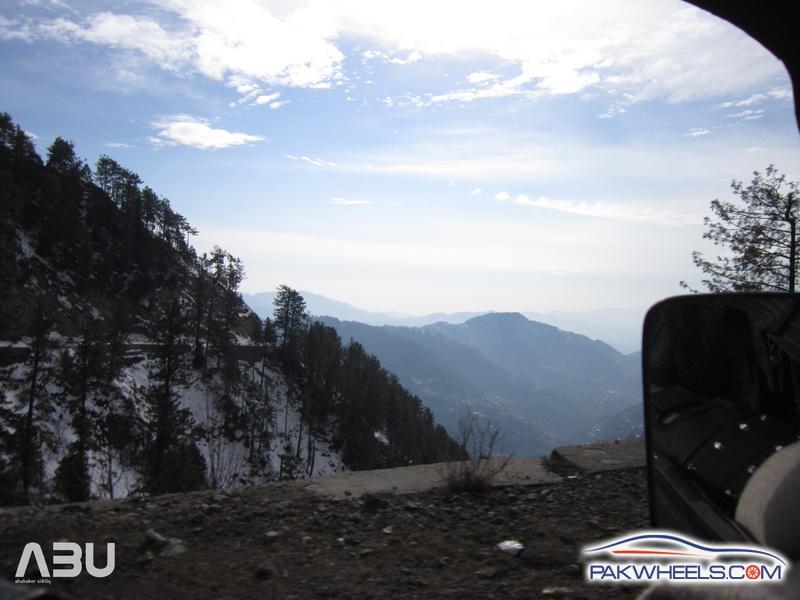 Amazing views on our way to Ayubia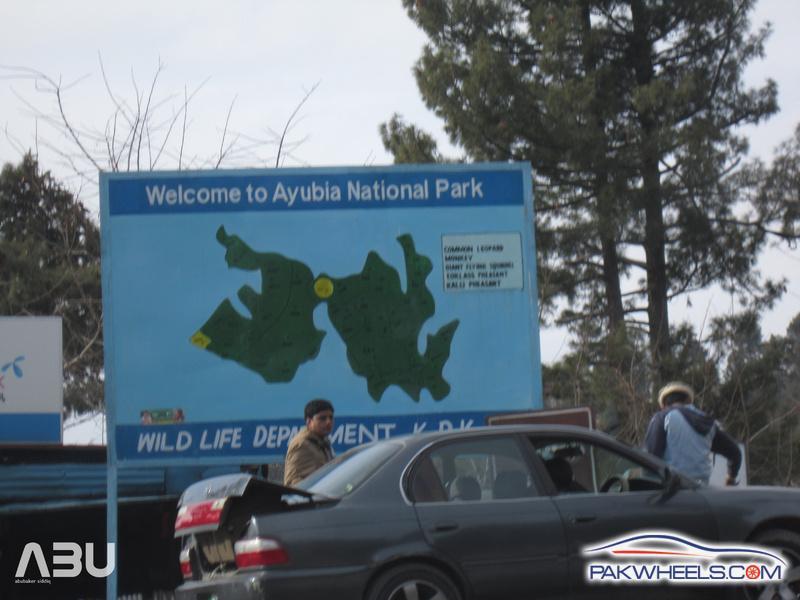 Welcome to Ayubia National Park, map of Ayubia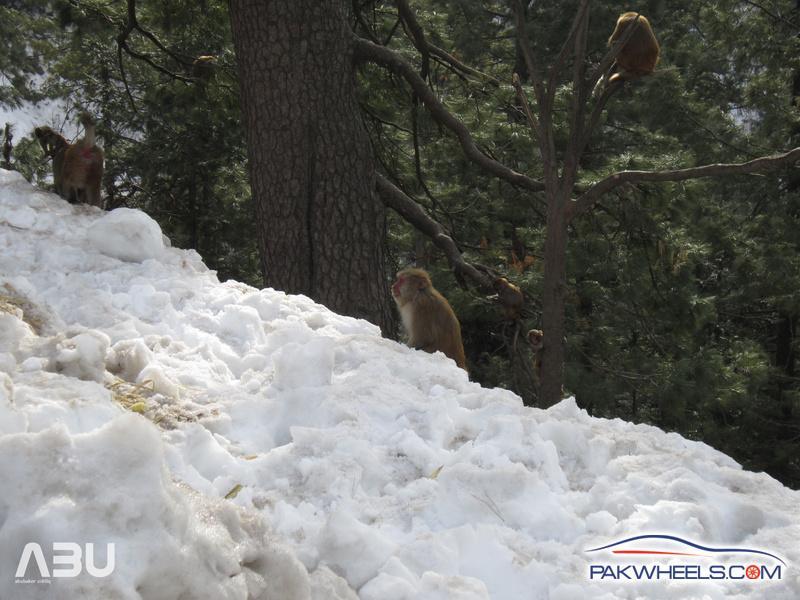 Bandar Point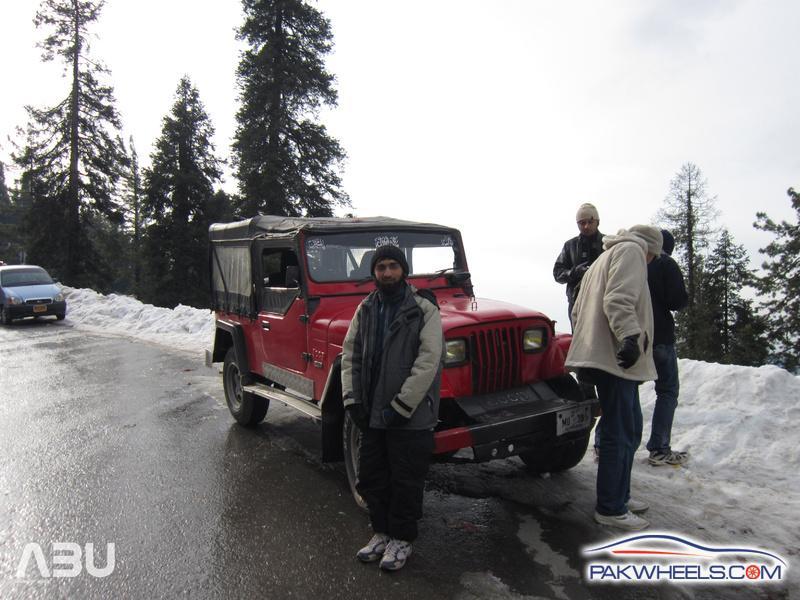 Me and our ride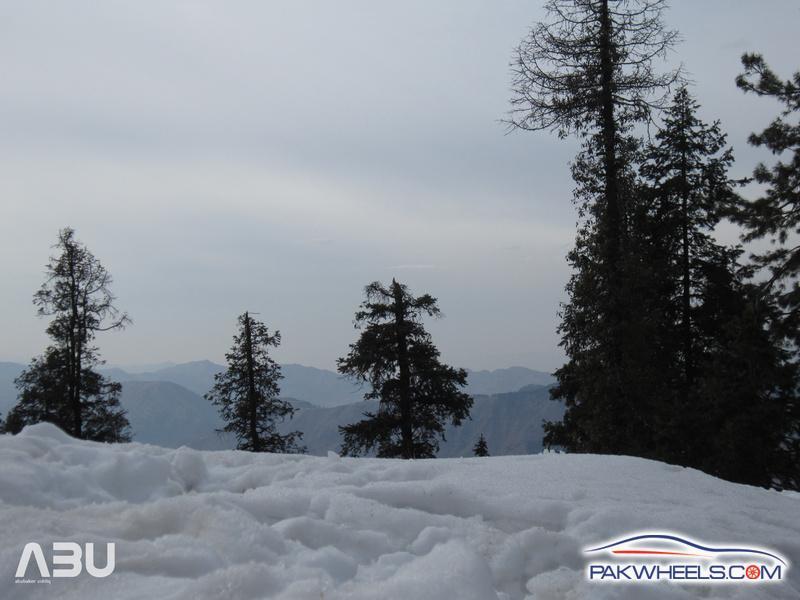 The beautiful weather, thick snow and the great trees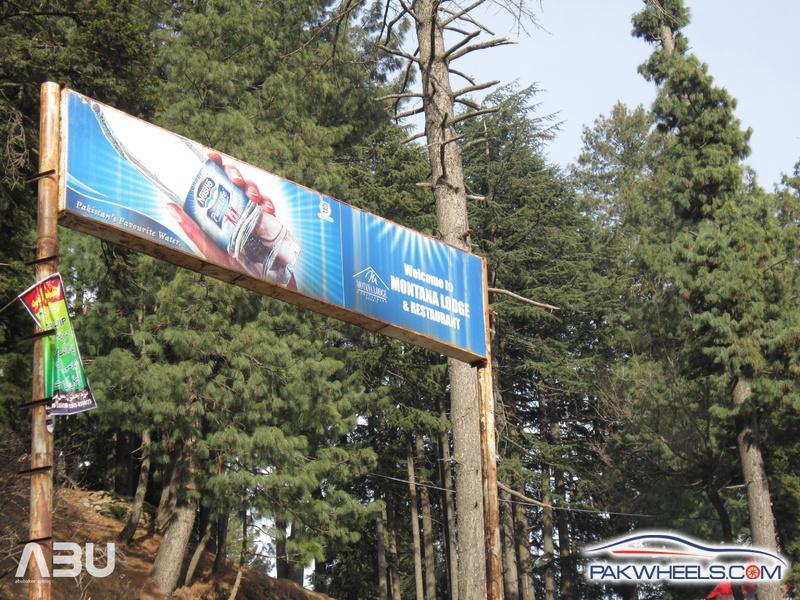 Entrance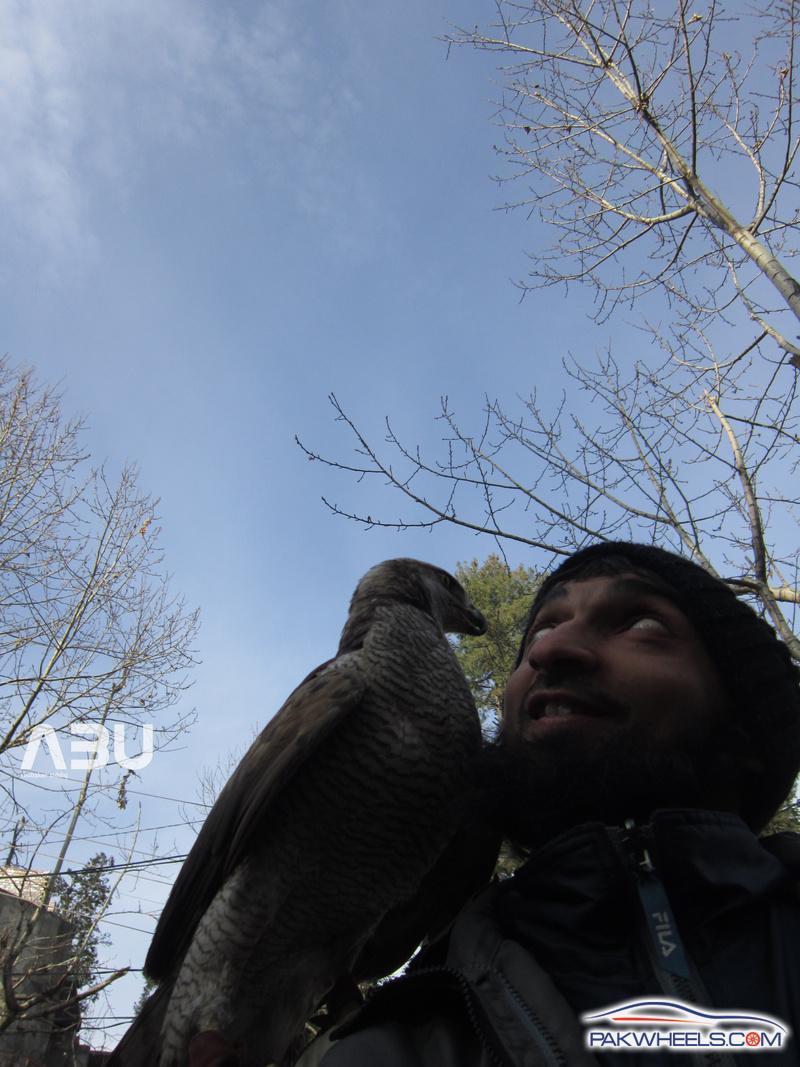 Me with Eagle.. Eye to Eye contact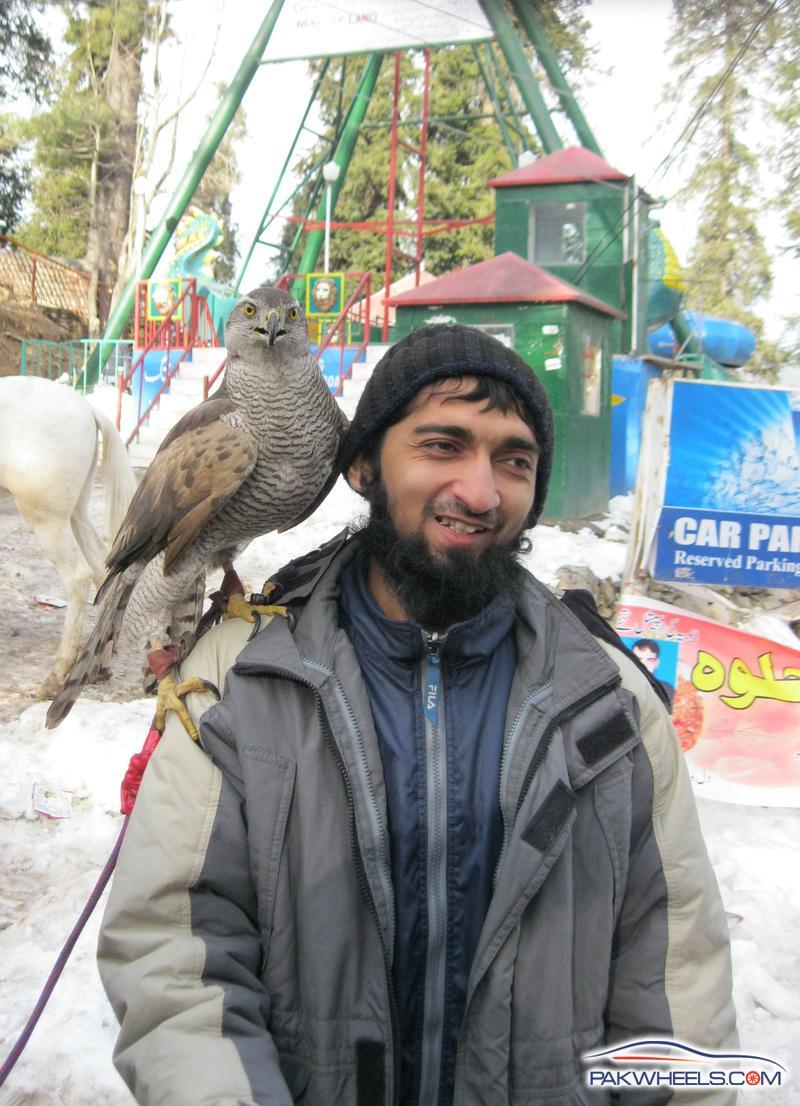 Me with Eagle..
We reached Ayubia and stepped out of car. It was quite freezing and we could see too much snow everywhere. We went inside the park and saw chair lifts over there. We stopped for a while to have a photo session with Eagle. From there we left for Nathia Gali. The journey to Nathia Gali was really awesome as it was getting colder and freezing as we were gaining height. We can see amazing views of the mountains and snow and could feel the extremely cool breeze. We stepped out of the vehicle and headed towards a place in Nathia Gali. We slide on the stairs covered with thick snow and took too many photos. It was asar already and the sun was about to set, so we had to leave that place.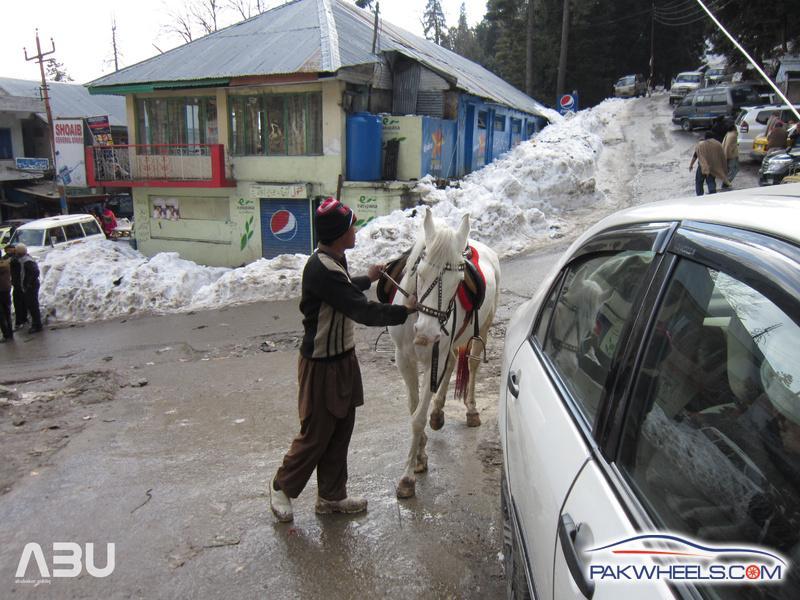 Nice Horse
On the way to Nathia Gali from Ayubia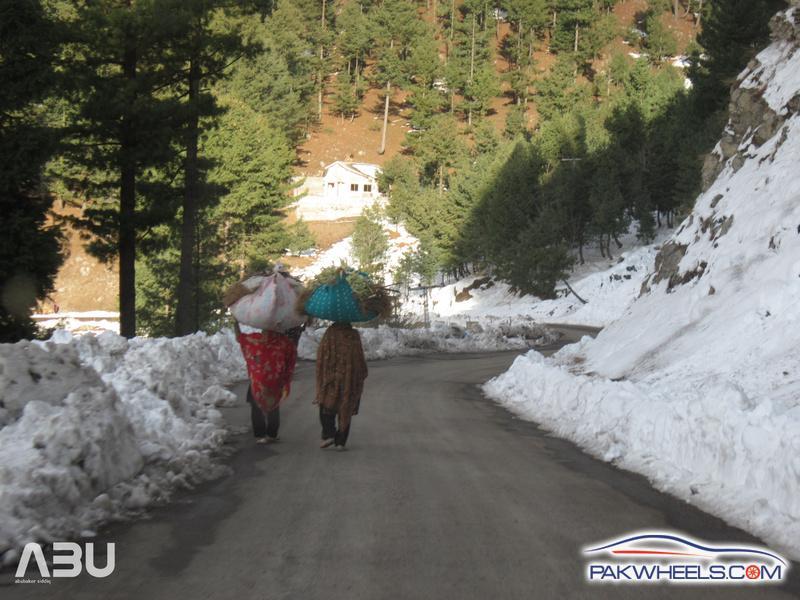 On our way to Nathia Gali. Mehenti loag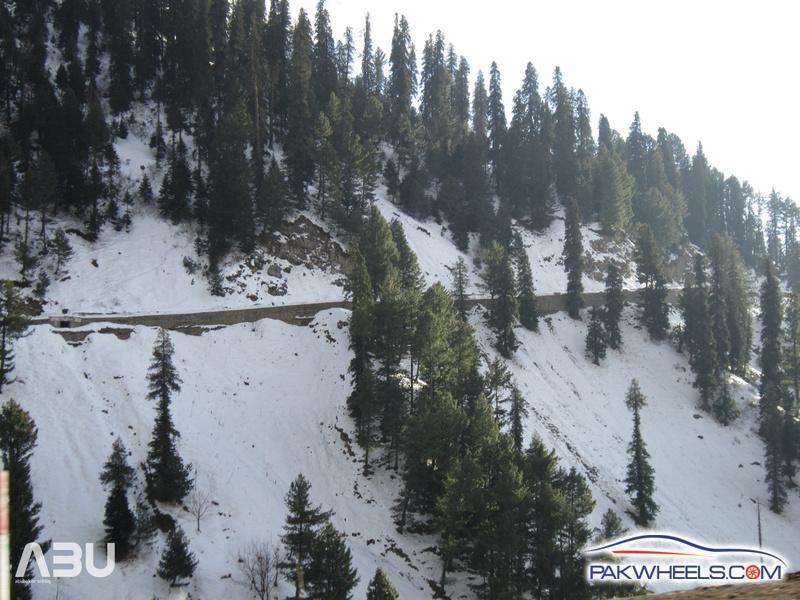 Nice slide on the moutains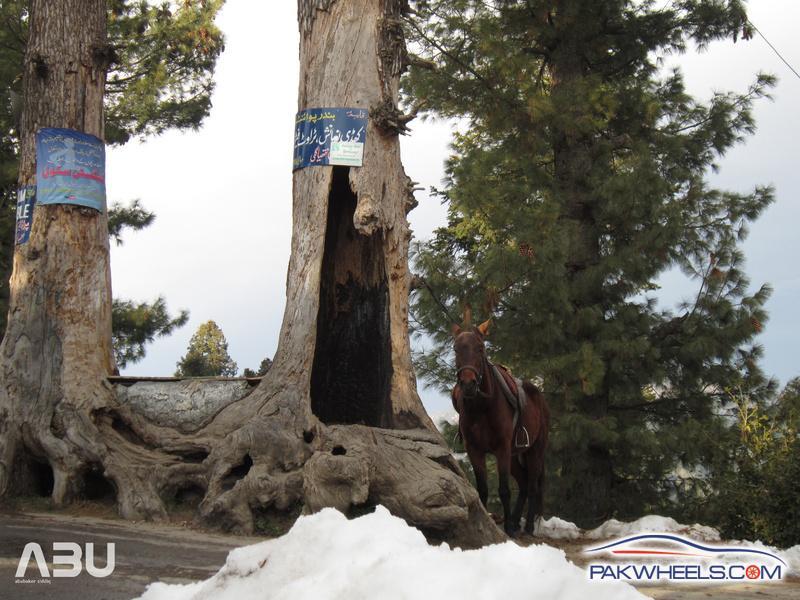 Amazing Hollow Tree and the horse at Nathia Gali, Pakistan